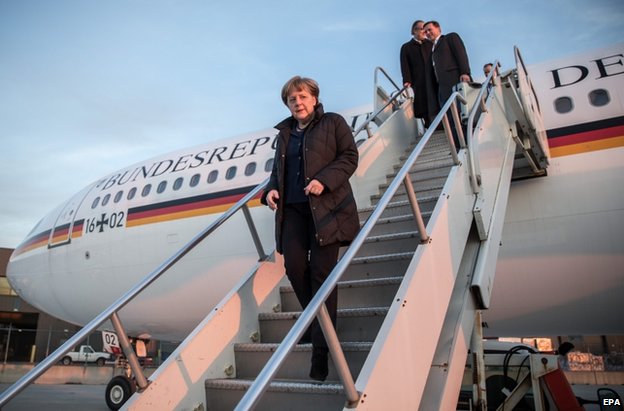 on: February 09, 2015
German Chancellor Angela Merkel has arrived in Washington for talks with President Barack Obama on Monday amid reports of a rift over Ukraine.



As well as discussing a way forward in Ukraine, the pair are likely to discuss a range of other issues including counter-terrorism and trade. As the crisis in Ukraine intensifies, America says it will stand with Europe but recent talks exposed divisions. Mrs Merkel has ruled out sending weapons to help Ukraine's military.





The Ukrainian government is locked in a conflict with Russian-backed rebels which has claimed more than 5,300 lives and driven 1.5 million people from their homes.





There is pressure on President Obama to adopt a tougher stance, with some officials in Washington, as well as senior Republicans such as Senator John McCain, arguing that some form of military support is necessary, the BBC's Rajini Vaidyanathan reports from the US capital. However, the German chancellor is said to be holding out hope for a diplomatic solution.





Her trip to Washington comes days before she attends a summit in Minsk with the leaders of France, Russia and Ukraine.



She and French President Francois Hollande have been leading efforts to revive the Minsk peace plan which collapsed amid fighting over the winter. The detailed proposals have not been released but the plan is thought to include a demilitarised zone of 50-70km (31-44 miles) around the current front line.