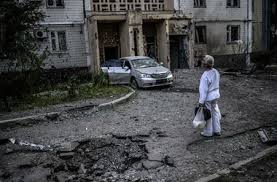 on: February 05, 2015
Police officers of Debaltsevo saved two aged people and a girl who were in the basement of destroyed house about 4 days and nights.
The MIA of the Donetsk region reports, people have been weakened a lot. However, they have been already got medical aid. 'The police office got the signal that there is a destroyed private house on the 8 March Street where people are probably.





Despite the shelling, two workers of city department of the police got the place and discovered in the basement two aged people and the girl who managed to survive', it is said in the report. 150 people were evacuated from the city on the eve. Evacuation works are going on; there are about 10 thousand people in populated areas of Debaltsevo. Several civilians cannot bring themselves to leave native town.



It is necessary to point out that the Defence Ministry of the DPR had announced on the eve that Kiev is preparing terroristic action, they have plan to explode bus with civilians and the management of the DPR have evidences of this provocation which they got from the fighter of the territorial battalion Kiev Rus'.