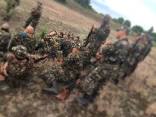 on: February 05, 2015
Battalion №15 of brigade 128 from Uzhgorod was encircled, there are many died and wounded fighters.
Fighters from the brigade 128 ask about aid. It was reported by the volunteer from Rahov Snezhana Tulik.





Due to the words of the woman, fighters of this rifle brigade addressed to her by the phone and asked help and publicity. Fighters reported that their mountain-riffle battalion of brigade 128 was encircled in the Donetsk region.





The situation is difficult, they are subjected to constant shelling and they do not have enough weapons to reply to shelling of the enemy.





Therearewoundedandcasualtiesaftershellingcommittedyesterday. Due to the preliminary information, there are 27 casualties and wounded fighters for the last 24 hours.


There is also information that 20 fighters from Zakarpatye cannot leave the circle of the militia near Chernuhino.