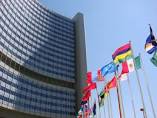 on: January 31, 2015
The Organization of United Nations calls Ukrainian fighters and enforcement bodies to reach humanitarian ceasefire and evacuate dwellers from Gorlovka and Debaltsevo.



It was reported by TASS with the reference to the representative of the State Secretary of the UNO Pan Gi Miun Stefan. 'Humanitarian coordinator of the UNO in Ukraine Neil Walker calls to reach immediate ceasefire that will allow to civilians to leave the zone of military actions if they want, and humanitarian workers will be able to provide medical aid to wounded people' announced Miun.





According to his words, many civilians want to leave the cities that are regularly shelled, however, they are not able to do this as a result of constant military actions.



It was earlier reported by the National Security and Defence Council of Ukraine that DEbaltsevo was controlled by Ukrainian forces. Dialog.ua reported that artillery attacks did not stop. Seven civilians died. Shells strike populated houses.